Swimming Pool Removal Perth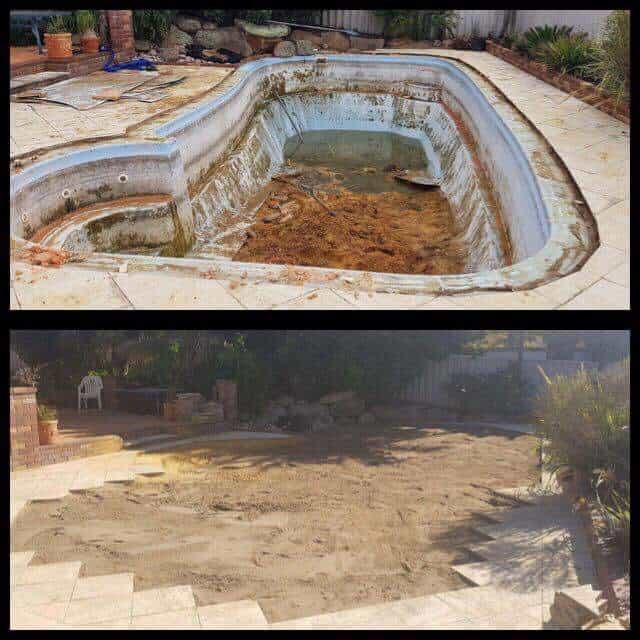 If the time has come to remove that old, never used pool with something new, then Active Bobcat Services can help.
Active Bobcat Services specialise in excavating and decommissioning your concrete, fibreglass or liner swimming pool. We will remove, dispose and backfill your pool to your existing garden levels, leaving your site clean and tidy and ready for your next plans.
We pride ourselves on quoting and completing the entire job. Our bobcat will arrive with a qualified operator and all equipment required to excavate and backfill the swimming pool site. We can also provide protective boards to minimise damage to your existing paving or grass.
If your Council requires a Certificate of Compaction, we can arrange for an independent qualified engineer to come out and test the site after compacting. Your council will require a Certificate of Compaction if you wish to build on the pool site.
Why Remove Your Swimming Pool?
Pool removal in Perth is becoming more common. Some of the main reasons people decide to remove their swimming pool are:
The pool is becoming a financial burden and draining your income
Upkeep and maintenance of a pool becoming more time consuming
Water and Electricity bills going through the roof
Cost of running both a pool and air-conditioning in summer
Block subdivision due to home extension or new building
The Pool has become unsightly and green and no-one is using it anymore
How Much Does it Cost to Remove a Swimming Pool?
The cost of Swimming Pool Removal varies just as every pool varies in size. The cost is also dependent on the pools construction materials and if you wish us to provide any other site works around the pool such as removing the paving, trees or shrubs. We quote every pool individually and are happy to provide a free onsite consultation with you explaining all processes and answering all your questions.
Concrete, Fibreglass and Liner pools removed
Boards supplied to protect existing paving/grass
Concrete headers removed and disposed
Pool backfilled and compacted with clean fill sand to your existing garden level.
Certificate of Compaction by an independent qualified engineer
Does removing a swimming pool increase your homes value?
Removing a pool may increase the value of your home especially if you intend to build an additional extension or a granny flat. It might increase potential buyers like families with young children who don't want the additional cost of removing or maintaining a pool. They may prefer a larger backyard for children to play in and may consider the pool a liability. Does the pool need extensive repairs or replacement of pool equipment, pumps or solar heating? Many potential buyers don't want the added cost of these repairs.
Active Bobcat Services provides a 'Total Price Package' which includes all tip fees, truck/bobcat work for complete removal of your swimming pool.
The quoted price is the quoted price – with no extra hidden charges